Indian Women and The Shaadi Conundrum
AVAILABLE ONLINE
A self-help book for Indian women by Dr. Rachna Arora and Deepika Sharma.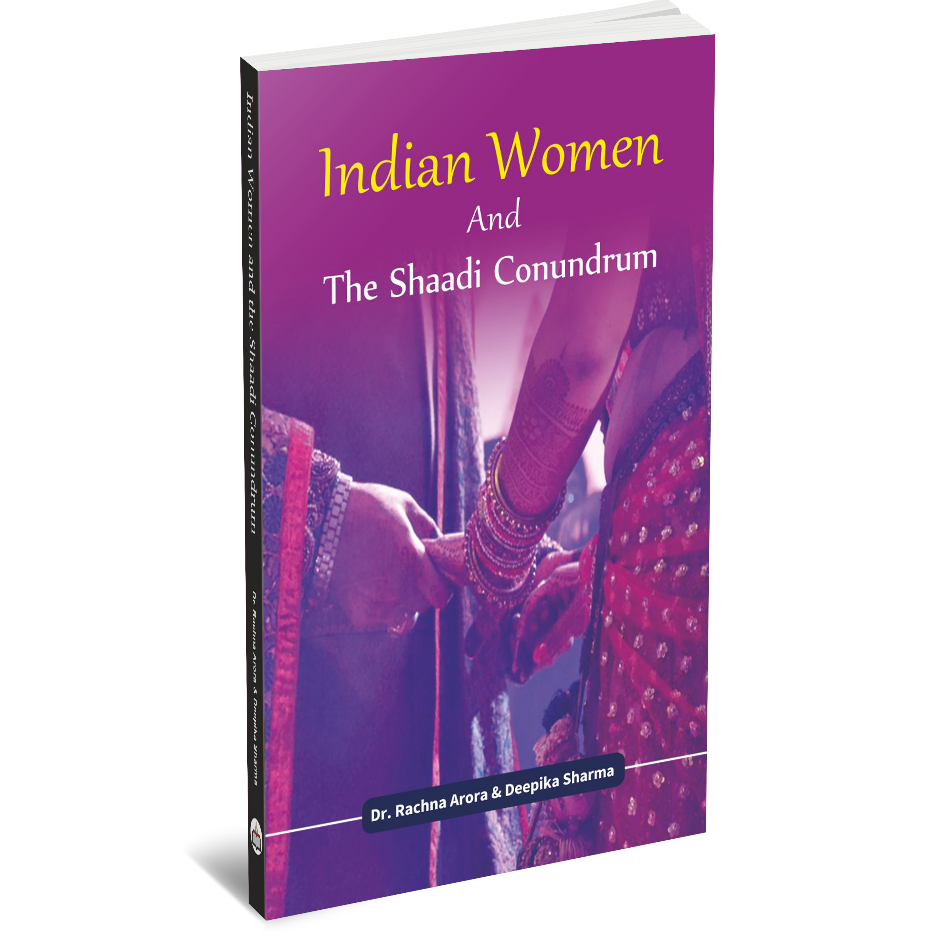 Indian Women and The Shaadi Conundrum
A self-help book for Indian women
Indian Women and The Shaadi Conundrum is written in the context of Indian society and speaks directly to Indian female readers. 
It is for all the Indian women who wish to empower themselves to live a happy and fulfilling married life. 

Finding lasting happiness in marriage can be difficult for many women. Some end up suffering in silence, only to be looked down upon for no fault of theirs.
This book, in a step-by-step progression, shows a better way to choose the partner, deal with pre-wedding stress and smoothly transition into married life. It enriches women with all the essential information that is required for marriage. It also gives the insight of psyche of our society and encourages women to have a realistic perspective towards the institution of marriage.  
It deals primarily with the issues and challenges that Indian women face pre and post marriage and helps women to mentally prepare to effectively cope up with them.  The book helps a woman to better understand the relationship dynamics and build a beautiful relationship with husband and at the same time developing a rapport with marital family without compromising her individuality, self-respect, and dignity.   
Using real-life stories of women from various ages and stages of life, this book highlights common issues that women face and provides solutions to those issues. This book discusses the different types of conflict that women face post marriage and also explored the reasons behind them and is helpful for women who struggle to deal with challenges of married life and need help with the adjustments problems they may face post-marriage. The book contains the self-help tools and skill building techniques that help women in dealing with conflicts with confidence and at the same time maintaining peace and harmony within relations. 
 
In the nutshell, Indian Women and The Shaadi Conundrum is an effort to empower women so that they can take control over their lives and enables them to live a peaceful, satisfied and happy life. 
Book Reviews
WHAT HAPPY READERS SAY
I had bought this one for gifting to a friend and here is what she has to say- " I find this book so amazing. It has some of the essential pieces of learning for the would-be brides while they are getting ready for the plunge. So many real life case studies and live examples keep you interested throughout (and I wished it had lasted a little longer). I think every girl should read this at least once during that important juncture of time."
A perfect read for all the brides and married females - "Indian Women and the Shaadi Conundrum", a book which openly and honestly talks about pre-marriage and post-marriage issues. This book is dedicated to all the Indian women who feel overwrought about Shaadi conundrum and think about why our society is so anxious about the marriage and kids.
This book is for all those females who find difficult to cope up with post-marital adjustments. The book contains useful tips, self-assessment checklists which can help Indian women in dealing with conflicts and in understanding the relationship dynamics. Simple language used in the book makes this book easy to read and understand.
Indian Women and The Shaadi Conundrum is a perfect guide for all the Indian females out there guiding them from the thought of Shaadi to the planning of the kids. At the same time, this book is an eye-opener for all the men out there.
Relationships are complex entities. The more you think you have understood them, the farther you drive yourself from understanding it. There is no relationship manual in this world that can help you have a sound and smooth-sailing relationship. The books will tell you about the Dos and Don'ts. Following them or ignoring them depends on completely on you. 'Indian Women and The Shaadi Conundrum' is one such book that will help you in your so-called Shaadi journey.
The book talks about the pre-marriage and post-marriage situations that a girl faces. Right from choosing a life partner to planning a baby, this book talks about all of it. Women are usually considered weaker. They aren't allowed to voice their opinion. With this book, one will feel inspired to take her own decisions. A relationship is a two-way street. Men and women, both have to walk together in order to reach the destination. Men often forget this. This book will be an eye-opener for men as well. The book teaches the reader how to be self-dependent and assertive. It tells you that there's nothing wrong in leading your life the way you want. The book has a special note for mother-in-law and husband. I would say that this book is not just for those girls who are going to be wedded soon but also, for those who are in relationships. It is not only for women but for men too. It is a self-help book which if followed will surely sweeten your relationship. The simple narration makes this book an easy read. The case studies help you understand the dilemma better. The checklists at the end of each chapter will help you know where you stand in your relationship. I will recommend this book to all women regardless of their age.
Indian Women and The Shaadi Conundrum is a perfect guide if you are searching for true LOVE in your LIFE.The book comprises of Before You Say Yes, Pre-Wedding Blues: Coping up with Stress, Life after Marriage: A New Phase, How to have a Happy Relationship with Your Husband, The Baby Dilemma, Coping up with Adjustments in a Marriage, Patriarchy, and the Indian Society & Self-Empowerment: The Key to Happiness. The duo has focused more on important details with amazing solutions. They have used multiple checklists and pointers throughout the book to make it easy to read and understand the points. The book is based on many surveys and research on women from different fields.
This book should serve as a reference point for organizations such as National Commission for Women and the case studies as a guide in drafting legislations to protect women, upholding their rights in society. A brilliantly explored scholar work that serves as a guide to the Government, academic institutions, NGOs and helping to spread awareness, raise mass consciousness and educate. Full marks to the authors for urging us to question rules that discriminate against fellow human beings. Such nonsensical rules should not only be questioned but chucked out. It's written in a simple and direct language, that makes it easy to understand minus technical jargons. Go and grab it.